One of the reasons that I love working with WordPress is the infinite possibility and flexibility it offers.
It allows novices and experts alike to create stunning websites worthy of the brand that they represent.
So, why would you bother hiring a website designer if you can do all of this yourself?
It's the same response that I give to people when they ask why they should use an independent publisher, like our sister organization, Emerald Lake Books, when they can self-publish.
We know what you don't.
We know the design standards. We know the hidden pitfalls. We know how to develop sites (and books) to avoid potential issues down the road. We know how to select themes, plugins, products and services that will grow with you.
It's why we go through an intensive interview process before we even begin working on a new site.
We need to understand what you want your site to do now, and what you want it capable of doing three years from now.
We dig deep to learn about your ideal audience, what their needs are, and what we can do to make your site the place they want to visit most out of the millions of websites they could spend their time on.
We learn about your likes and dislikes in terms of branding, colors, layouts, functionality, etc.
And we take all of these factors and more into consideration when we design the site that's right for you.
More than that, though. We can save you from false starts.
A hard lesson
I recently inherited a client's website. She'd had a friend create it for her, and was hosting it on a web server owned by the friend of another friend.
When she hired me, she thought she was ready to have the site optimized for SEO. However, upon performing an SEO evaluation for her, it became clear that she did not have what she thought she had purchased.
The "WordPress website" she'd purchased was actually made in Adobe Muse and published to the web host. This meant that only her developer had access to the source files, and my client could not easily update the site herself (a requirement she'd stipulated when she contracted with her friend to do the site in the first place).
The web host she was using was a small outfit that only owned one server. As a result, they were very protective of that single server, knowing that if anything ever happened to it, they were out of business.
When my client's email address was randomly hacked, the web host went ballistic. Their rants and unprofessional manner of addressing our client's distress did nothing to resolve the problem. In fact, the web host locked down every single cPanel function and blocked our client's ability to send and receive email for more than a week, effectively shutting down my client's business.
Before I could ever do anything about the SEO activities I was hired to do, we had to convert the website from Muse to WordPress, migrate it to a new web host and transfer the domain registry as well, simply to avoid the false starts and poor choices that were unwittingly made at the start.
When you work with a professional web designer, they have the experience necessary to know which services and products they trust and would recommend. If you're only doing one or two websites for yourself, the chances are, you simply don't have the same breadth of knowledge necessary to avoid painful lessons.
The periodic table of web design
To gain a fuller understanding of what you get when you work with a website designer, consider this behind-the-scenes look at the web design process. Because that's what you get when you hire a professional.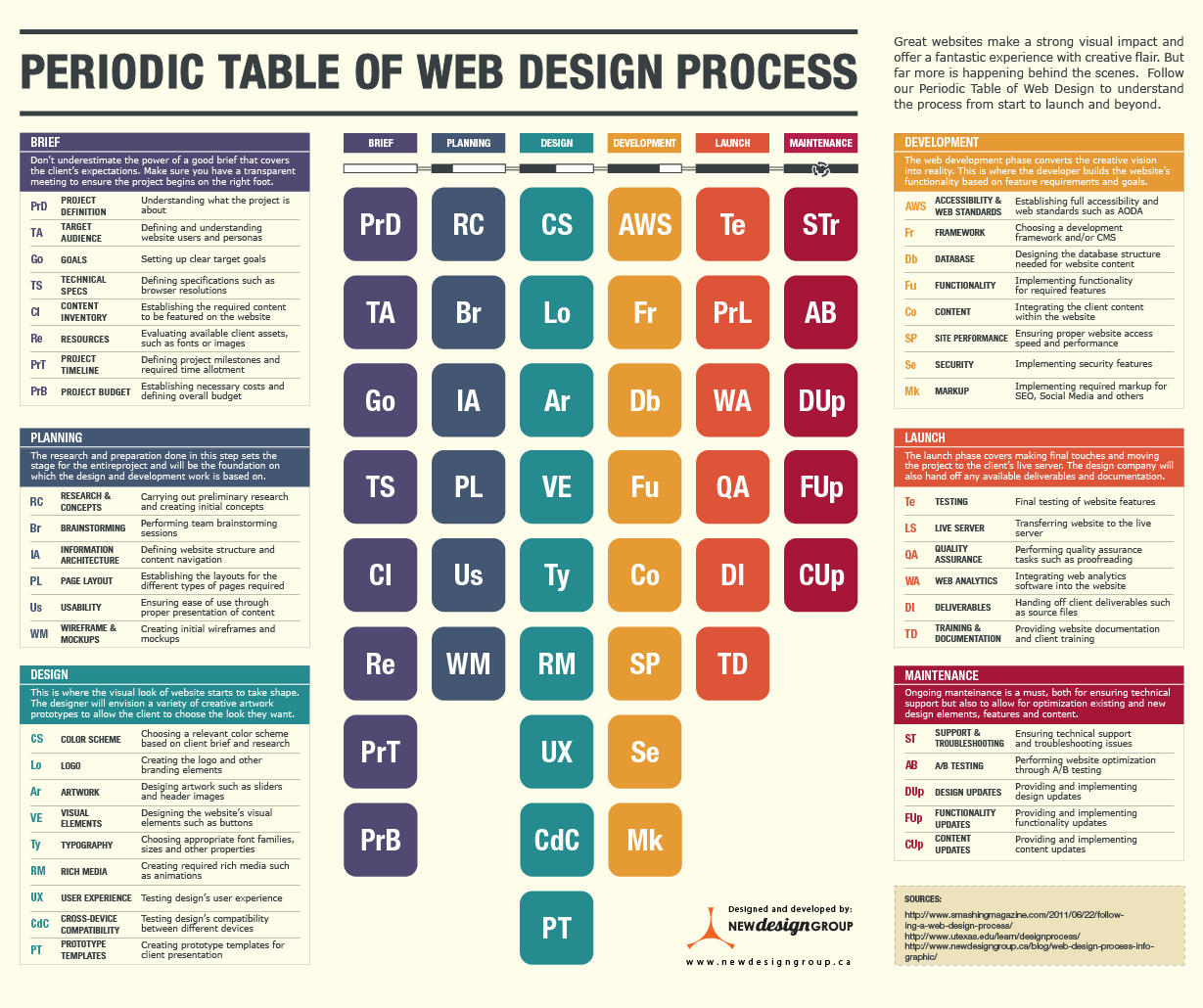 Periodic Table of Web Design Process – created by New Design Group